Downtown Customer Parking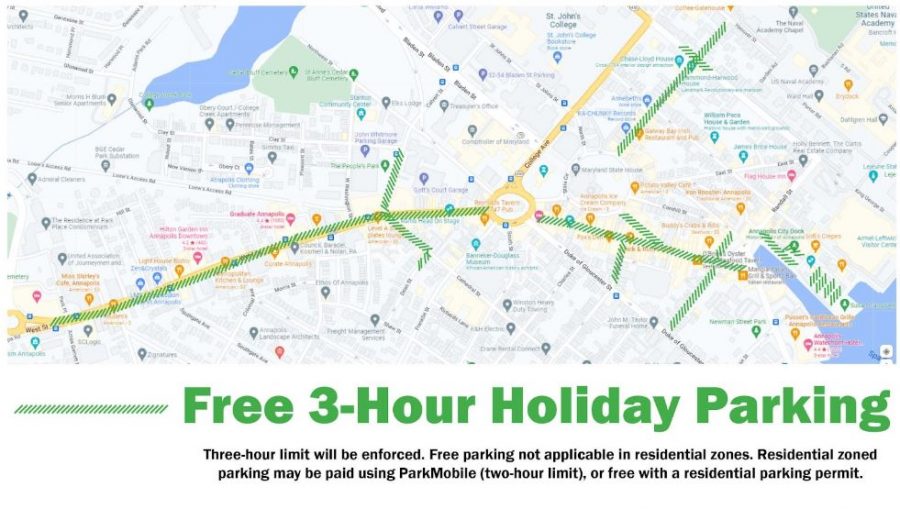 11 November 2022
FREE HOLIDAY PARKING (NON-RESIDENT/VISITOR):
Annapolis Mayor Gavin Buckley has again approved free holiday parking to encourage visitors to shop, dine, and stay in downtown. The program offers three hours of free parking at metered spaces. The three-hour limit will be enforced, so if you expect your stay to go longer, please use garage parking further up West Street and take the free downtown shuttle.
VOUCHERS FOR GOTT'S GARAGE (CLOSEST GARAGE TO DOWNTOWN):
As an additional incentive, the City of Annapolis is distributing tens of thousands of free parking validations for Gott's Garage to retail, restaurant, and service businesses in the immediate Hillman Garage user area. This area includes Maryland Avenue and State Circle, Compromise and Dock Streets, Market Space, Duke of Gloucester, Compromise and Main Streets, and small connectors in between. Ask your favorite shops in the Historic District about two-hour validations for Gott's Garage. Park at Park Place ($2/hr) or Knighton ($3/hr) and take the free downtown shuttle.
To use the validation, enter Gott's and take a ticket. While shopping or dining downtown, ask for parking validation. Each yellow validation is worth two hours of free parking. When you exit the garage, feed the white ticket, followed by the yellow validation. Validations can be used at both the Gott's pay station kiosks or exit gates.
PARK PLACE, GRADUATE HOTEL + OTHER CITY GARAGES (ONE PARK PLACE / TAKE FREE MAGENTA SHUTTLE):
Park at Park Place (One Park Place) for $1 for the first hour/$3 for two hours. Take the free downtown magenta shuttle, which runs in a continuous loop approximately every five minutes from Park Place to Main Street and back. Download the "TransLoc" app and track the shuttle in real time.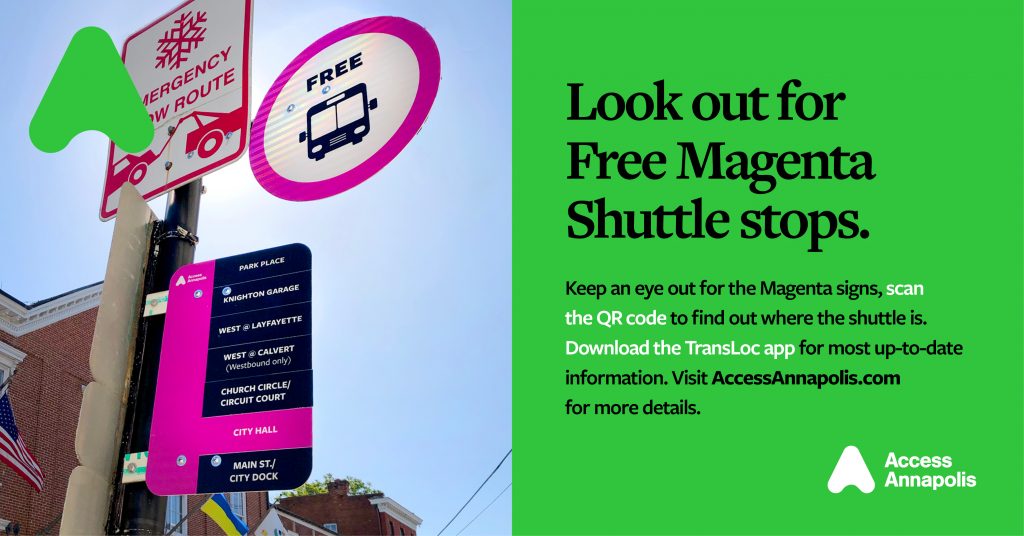 Park free at City garages (Gott's Court, Knighton, Park Place) on Sunday mornings (enter after 6 a.m. and exit before 2 p.m.).
The State Garage (19 St. John's Street) offers free parking from 6 p.m. to 6 a.m. Monday through Friday and all day on weekends. Whitmore Garage (37 Clay Street) offers free parking on Sundays.
Please NOTE: There is plenty of garage parking at Park Place, Gott's, and Knighton. These garages have NOT been filling up. In addition, there is free parking on nights and weekends at the state garage on Calvert Street (at Bladen) and free parking on Sundays at Whitmore Garage on Calvert Street.