Alternative Mobility Popular With Annapolis Residents and Visitors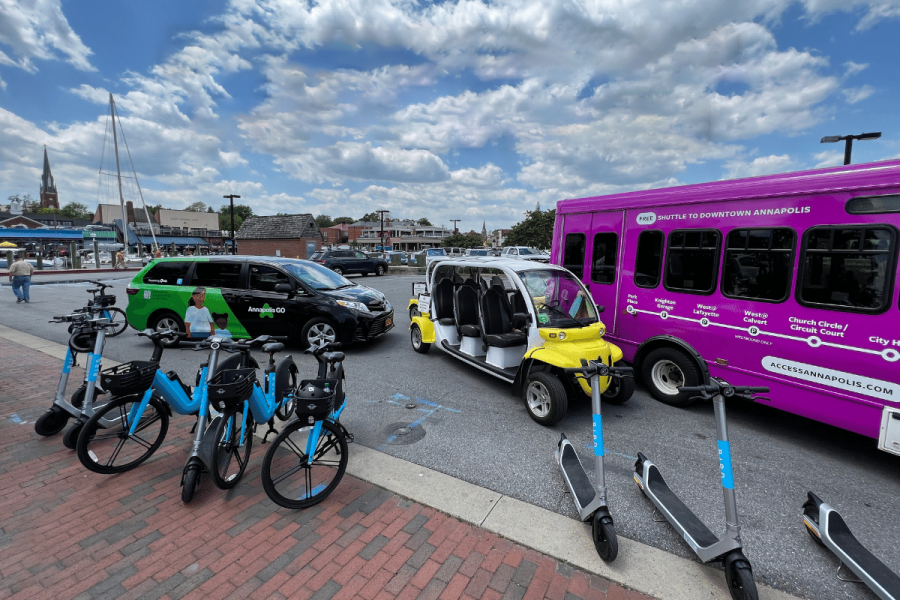 26 September 2022
Data from alternative mobility partners indicates strong support and usage of bird scooters and e-bikes, the downtown shuttle, and the shared ride service Annapolis GO The alternative mobility solutions were rolled out in early May to help downtown residents and visitors navigate around Annapolis while the Noah Hillman garage is being rebuilt.
DOWNTOWN SHUTTLE: The Annapolis downtown shuttle, formerly the Circulator shuttle, was rebranded with a bright magenta bus wrap with corresponding street signage. Ridership numbers have more than doubled over 2021 numbers. In May, ridership in 2022 was 5,968 riders for the month (2,370 in 2021); in June, ridership was 6,994 (3,152 in 2021), and for July, ridership was 8,019 (3,738 in 2021). The downtown shuttle makes a loop between Park Place Garage and Main Street. 
ANNAPOLIS GO: Ridership has grown by more than 400 percent since the service began in May. Today, Annapolis GO provides more than 1,000 on-demand shared rides per month for just $2 per trip. To meet increased demand, Annapolis GO recently introduced expanded hours: Monday-Thursday from 3pm-9pm, Friday from 3pm-11pm, Saturday from 12pm-11pm, and Sunday from 11am-7pm.
BIRD: Scooter and e-bike usage is rising in Annapolis, with increases in both rides per day and ride distance. The average number of rides per day is more than 150, with a record of 328 rides in one day. Average ride distance has nearly doubled, with a record collective distance of more than 1,240 miles per day. Heat maps generated by Bird indicate the most popular areas for ride start (left) and ride end